Email extractor from text, file and website
Extract Email Addresses online
Extracting email addresses from various sources such as websites, files, and texts.
Time-Saving
Minimize manual tasks and increase time savings.
Scale Responsively
Handle a 20% increase in email volume efficiently.
Verifying
Verify extracted email addresses on process.
Who want to use?
This tool saves time and effort by automatically finding and extracting email addresses from the webpages, text or files, making it a must-have for any marketer, recruiter, or a business owner.
If you want to know why they use this tool, you must know there are many hidden email addresses in texts or webpages that you can use them legal for email marketing or so on.
How it works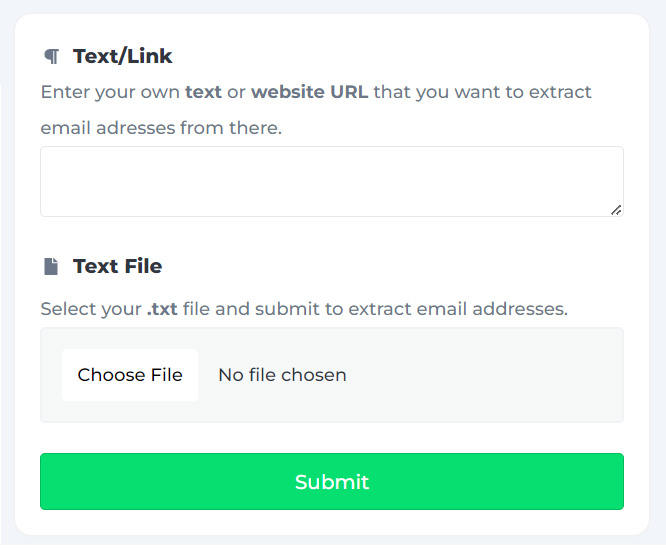 1. Enter your text with one of way below:
Enter a text. [unlimited character support]
Enter an URL of webpage.
Choose a text file from your computer.
2. Just submit the form and wait to extract email addresses.
FAQ
See more frequent question and answers about this tool
How does Email Extractor work?
It searches for patterns that match the structure of email addresses and extracts them after verifying. The Email Extractor tool can scan and analyze text, files, and websites.
Can I extract email addresses from other sources?
Yes, it allows you to extract email addresses from various sources, including text, HTML codes, files, and websites.
What type of files does the Email Extractor support for extraction?
The Email Extractor tool supports TXT file format only for now. Other formats will be added soon.
Is this tool capable of extracting email addresses from web pages?
Yes, it is designed to extract email addresses from any URL. Simply provide the URL of the website, and the tool will scan and extract hidden email addresses from the webpage content.
Can I use the extracted email addresses for email marketing purposes?
Yes, once you have extracted email addresses using the tool, you can utilize them for legitimate email marketing purposes. However, ensure compliance with local laws and regulations regarding email marketing and spam.
Can I save the extracted email addresses for future use or export them to other applications?
Yes, you can typically export them in various formats such as CSV, TXT, or Excel, allowing for easy integration with other applications or tools for further processing or analysis.
Updated on 9 August, 2023