Similar tools
Robots.txt Generator
Our online Robots.txt Generator helps you create a properly formatted robots.txt file for your website. Easily control search engine crawlers and ensure the proper indexing of your site with this essential SEO tool.
Domain to IP
Find the IP address of any domain with our online Domain to IP tool. Troubleshoot website issues and verify email authenticity with ease. Try it now!
DNS Lookup
Get instant DNS information for any domain with our DNS Lookup tool. Check IP address, nameservers, and other DNS records with ease. Perfect for troubleshooting and verifying DNS configuration.
What Is My IP Address
Get all information about your connection data like your public IP address and public IP location. Check IPv4/IPv6, ISP, Timezone and Region of your connection.
Whois Lookup
Get detailed information about domain ownership and registration with the Whois Lookup tool. Protect your brand, avoid potential domain fraud, and gain valuable insights with our easy-to-use tool.
SSL Lookup
Verify the authenticity of a website's SSL certificate with the SSL Lookup tool. Get detailed information about the SSL certificate including its expiration date, issuer, and protocol version.
Ping
Check the connectivity and measure response time with our ping tool. Monitor network performance, troubleshoot issues and optimize response time for improved network efficiency.
Website hosting checker
Discover the hosting type of any website with our Website Hosting Checker tool. Quick and easy, it's a must-have tool for website owners, developers, and marketers. Check it out now!.
Keyword Density Checker
Keyword Density Checker tool provides valuable insights into the keyword usage on any webpage. Analyze your content and optimize for better search engine rankings with ease.
Word Frequency Analyzer
Count words from texts and get percentage data to analyze and improve your writing and communication skills, and boost your SEO efforts.
Gravatar checker
Gravatar Checker is a powerful tool to verify and save avatars for multiple email addresses. Get accurate results and save time with our user-friendly interface.
Meta tags checker
The Meta Tags Checker tool analyzes your website's meta tags and provides an easy-to-understand report on any missing or incorrectly formatted tags. Improve your website's SEO and visibility with this simple and effective tool.
Safe URL checker
Protect yourself online with our Safe URL Checker. Quickly scan any website for potential threats like malware, phishing, and viruses. Get accurate results in real time.
Domain Age Checker
Discover the age of a domain with our easy-to-use Domain Age Checker tool. Get valuable insights into the history of any website and make informed decisions about its authority and potential value.
Parse a User Agent String online
Every time your browser makes a request to a website, it sends an HTTP Header called the "User-Agent".
The User-Agent string contains information about web browser like name, operating system, device type, and lots of other useful data.
Problem
Browsers sends user agent in different format.
Solution
Decoding parsed data to readable format.

Parsed data to JSON
User Agent Parser performs a syntactic analysis of the user agent string and returns it as structured data in the JSON format.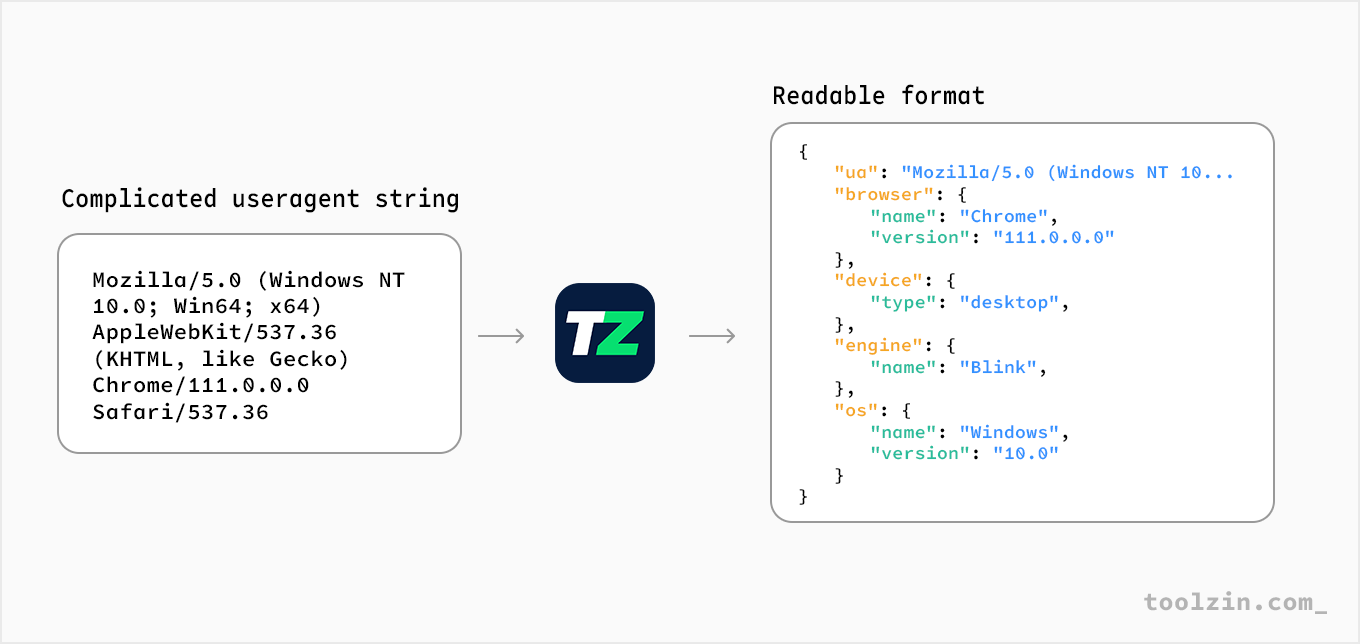 Detect Any Browser, Device & OS In Real-Time With API
Do you website owner? No need for a specific set of skills to parse User-Agent data! User Agent Parser API functionality can be implemented in under 1 minute using any major programming languge.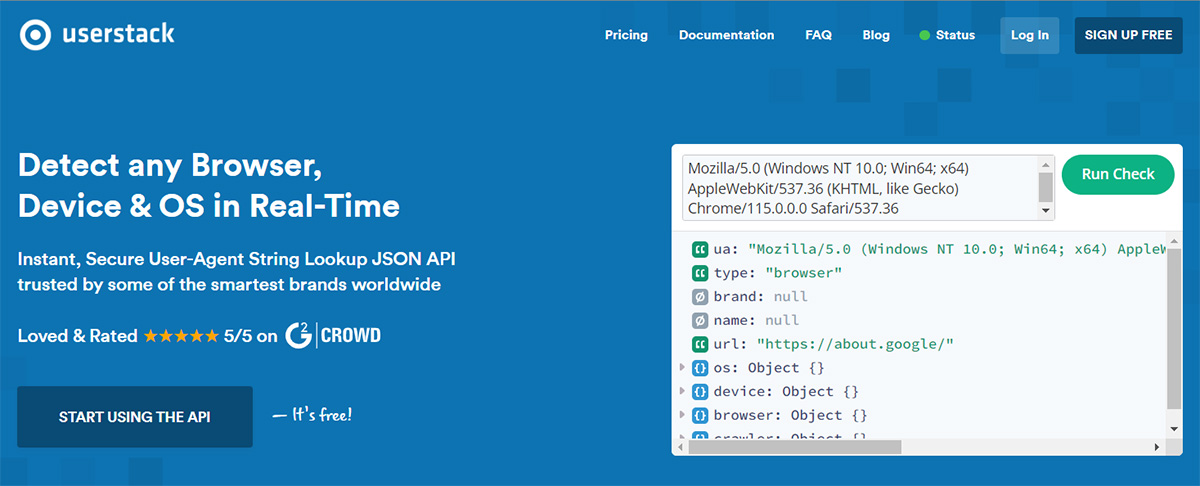 The source published on Github
Updated on 1 August, 2023